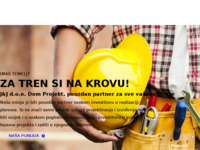 J&J dom-projekt d.o.o.
Visits: 2538
Added: 1.10.2003.
Description
Proizvodnja fert gredica i mont. nadvoja. Trgovina gradevnim materijalima. Veleprodaja cementa po tvorničkim cijenama. Sve za gradnju: crijep, opeka, vapno, cement, tondach, wienerberger, fert gredice itd
Location
Location of this site was not found. If you know the address of this site, please contact the administrator.