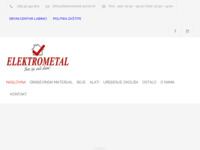 Elektrometal Porec
Visits: 1711
Added: 21.5.2004.
http://www.elektrometal-porec.hr/
Description
Our company is a modern store of all material needed for construction today and it covers an area of whole Istrian County in Croatia. We can also say that it is an example of successfull family company which employs today over 30 employee.
Location
Location of this site was not found. If you know the address of this site, please contact the administrator.