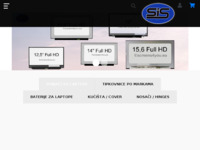 Sigurnost informacijskih sustava d.o.o.
Visits: 1926
Added: 28.6.2005.
Description
Tvrtka "Sigurnost informacijskih sustava" d.o.o. je specijalizirana informatička tvrtka, koja svojim klijentima pruža "kompletnu" uslugu iz područja IT sigurnosti. Ovlašteni smo distributeri nekoliko svjetski priznatih tvrtki, kao što su Norman, Acronis, SimWorks. Također u svojoj ponudi pružamo uslugu provjere ranjivosti (engl. Vulnerability Scanning) informacijskog sustava.
Location
Location of this site was not found. If you know the address of this site, please contact the administrator.