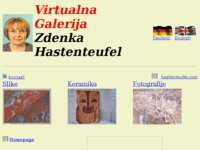 The Virtual Gallery of Zdenka Hastenteufel
Visits: 3049
Added: 8.1.2002.
http://www.hastenteufel.com/gallery_hr1.htm
Description
This virtual gallery promote the artwork of Zdenka Hastenteufel. It offers the possibility the enthusiast of her work to inform them about the advancement in her work.
Location
Location of this site was not found. If you know the address of this site, please contact the administrator.