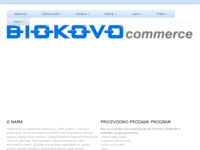 Biokovo Commerce d.o.o.
Visits: 2014
Added: 26.10.2004.
Description
Production and sale wire ropes,accessories for wire ropes, poliester slings, chains and cranes. We are also selling insulating-packing materials for industrial needed and building materials.
Location
Location of this site was not found. If you know the address of this site, please contact the administrator.