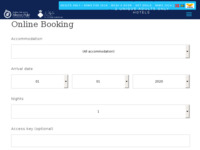 Hotel Marco Polo - Gradac
Visits: 2413
Added: 11.12.2002.
http://www.hotel-marcopolo.com
Description
If you are searching for a quiet place to take your vacation, the hotel Marco Polo is waiting for you and offers you an unforgettable stay. The fine sea air and sand of one of the finest and longest sunny beaches on the Adriatic, with a splendid view of the oaks and olive trees of Biokovo, await you.
Location
Location of this site was not found. If you know the address of this site, please contact the administrator.