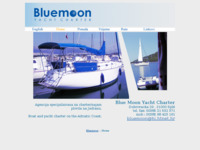 Blue Moon d.o.o.
Visits: 1029
Added: 17.4.2004.
http://free-st.htnet.hr/bluemoon/
Description
Specialized Croatian agency in boat and yacht charter on the Adriatic. We offer a yacht charter at very competitive prices with all the neccessary equipment for a safe and pleasent cruise on the Adriatic.
Location
Location of this site was not found. If you know the address of this site, please contact the administrator.