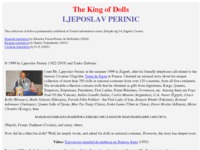 King of Dolls
Visits: 5960
Added: 29.9.1999.
http://www.croatianhistory.net/etf/dolls.html
Description
A unique collection of dolls in national costumes from more than 100 countries was donated by Mr. Ljeposlav Perinic (Buenos Aires) to the city of Zagreb in 1991. It contains 350 dolls, gifts from Queens, Kings, Empresses, Emperors, First Ladies, Presidents, Governers, from all five continents.
Location
Location of this site was not found. If you know the address of this site, please contact the administrator.