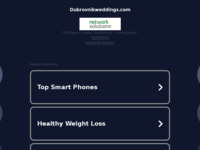 Dubrovnik Riviera Weddings
Visits: 1161
Added: 5.9.2006.
http://www.dubrovnikweddings.com
Description
We offer assistance in wedding planning from the very first beginning. We book the venue, accommodations, pre-wedding activities, decorations and everything else needed to realise your dream wedding in Dubrovnik.
Location
Location of this site was not found. If you know the address of this site, please contact the administrator.