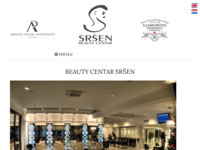 Beauty Center Srsen - Dubrovnik
Visits: 2159
Added: 10.9.2003.
http://www.beauty-centar-srsen.hr/
Description
In our modernly-equipped space in Dubrovnik, we create haircuts, do make-up, sell cosmetic items, we offer massage with hot stones. You can use our solarium (Megasun) and our Bodywarm capisles. We also do manikure and pedikure.
Location
Location of this site was not found. If you know the address of this site, please contact the administrator.