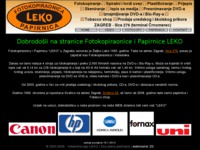 Video rental shop and photocopy club Leko, Zagreb
Visits: 1464
Added: 30.1.2004.
http://www.videofotocopy-leko.hr/
Description
Video Leko at Ilica 276 and Svetice 23, offers more than 5000 VHS and 700 DVD titles, rental and tape copying, photocopying, transcript, binding and plasticize. We offer PlayStation games, tobacco shop, office and school supplies. Video rental shop with new movies and announcements, top movies, useful links to the world of video and film.
Location
Location of this site was not found. If you know the address of this site, please contact the administrator.