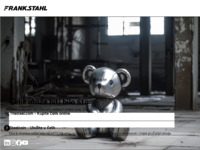 Frankstahl Zagreb d.o.o.
Visits: 2701
Added: 6.7.2006.
Description
U našem programu isporuke imamo kompletnu paletu proizvoda crne metalurgije: kvadratne i pravokutne cijevi (šuplji profili), plosnate i okrugle čelike, kutnike, šavne i bešavne cijevi, vučeni, legirani i nehrđajući (inox) čelik, nosače (IPE, INP, UNP, HEA, HEB, HEM), cjelokupnu paletu cjevnog pribora (prirubnice, lukove, redukcije, itd.), te limove, pocinčane i plastificirane.
Location
Location of this site was not found. If you know the address of this site, please contact the administrator.