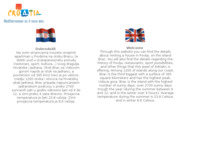 Apartments Vrsalovic, island of Brač
Visits: 1457
Added: 5.6.2004.
http://free-st.htnet.hr/apartmani-Vrsalovic-Povlja-Brac/
Description
Through this website you can find the details about renting a house in Povlja, on the island Brac. You will also find the details regarding the history of Povlja, restaurants, sport possibilities, and other things that this jewel of Adriatic is offering.
Location
Location of this site was not found. If you know the address of this site, please contact the administrator.