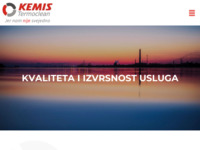 Kemis-Termoclean d.o.o.
Visits: 967
Added: 16.12.2008.
http://www.kemis-termoclean.hr
Description
Collection, disposal, temporary storage and sending off to the final disposal of hazardous and nonhazardous waste. Along with the activities related to waste we also perform the chemical and mechanical cleaning. For both types of activities we have over 20 years of experience.
Location
Location of this site was not found. If you know the address of this site, please contact the administrator.