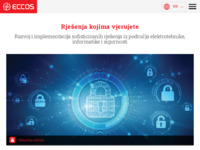 Eccos inženjering d.o.o.
Visits: 1725
Added: 26.8.2005.
Description
In this field we could offer you a complete range of activities which include different systems: CCTV-security surveillance systems, motion detection for pedestrians and vehicles, access control, time & attendance, perimeter protection, manguard protection systems, GPS systems, fire alarm and gas detection systems, mechanical protection systems–doors, barriers, turnstiles, strong rooms, safe locks.
Location
Location of this site was not found. If you know the address of this site, please contact the administrator.