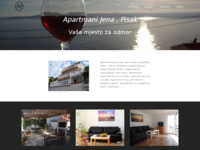 Apartments Jena Pisak
Visits: 726
Added: 19.1.2009.
http://apartmani-jena.bravehost.com/
Description
Jena apartments are located in Pisak next to Omiš. There are 2 apartments by 25 m 2 and 1 apartment of 50 m 2. The apartments are well-equipped (TV, satellite, air conditioning).
Location
Location of this site was not found. If you know the address of this site, please contact the administrator.