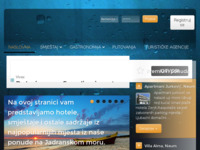 Where to holiday? The answer is here...
Visits: 5421
Added: 5.6.2006.
Description
Apartments, lodging, accomodation, rooms, hotels, tourist agency, and much more! Find your holiday place, save your money and time – arrange your tourist accommodation directly and for free! Fine selection of lodging, on the sea, mountains, towns... You can discover ideal sojourn for yourself or for your firm/organization, by looking through venue photos and detailed information about each accommodation, speaking to accommodation's owner. Have a nice time :)
Location
Location of this site was not found. If you know the address of this site, please contact the administrator.