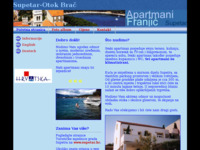 Apartments Franjić Supetar - Brač
Visits: 2170
Added: 14.11.2003.
http://free-os.htnet.hr/apartmani/
Description
We are offering pleasent holidays in brand new apartments. Each apartment has its own terrace, kitchen, living room with TV, dining room and bedroom. There is also bathroom and WC in each apartment.
Location
Location of this site was not found. If you know the address of this site, please contact the administrator.