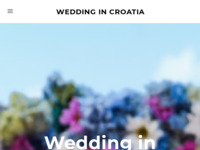 Wedding destination Croatia
Visits: 1027
Added: 30.6.2007.
http://www.wedding-in-croatia.com
Description
Wedding-in-croatia.com is thematic web portal for foreigners who are getting married in Croatia. The portal has a lot of interesting information: wedding destinations, wedding directory, wedding advice, wedding planner and guide to Croatia - beautiful Mediterannean country with more than 1000 islands.
Location
Location of this site was not found. If you know the address of this site, please contact the administrator.