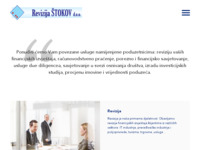 Revizija Stokov d.o.o.
Visits: 1164
Added: 27.3.2006.
Description
Registered activities are audit, tax advising, accounting - finance services and business consultancy. We are specially orientated to serve small and middle size companies, particularly advising local or foreign investors that are just starting their investment activities.
Location
Location of this site was not found. If you know the address of this site, please contact the administrator.