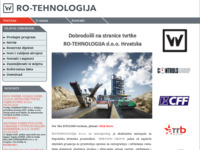 RO.Tehnologija d.o.o.
Visits: 847
Added: 27.3.2009.
Description
RO.Tehnologija d.o.o. za inženjering je ekskluzivni zastupnik za Republiku Hrvatsku proizvođača Wirtgen Group, jedne od najvećih svjetskih grupacija za proizvodnju opreme za cestogradnju i održavanje cesta. Naša djelatnost obuhvaća prodaju i after-sales usluge (servisi, održavanje i rezervni dijelovi) te iznajmljivanje strojeva.
Location
Location of this site was not found. If you know the address of this site, please contact the administrator.