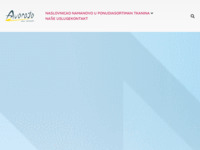 Veleprodaja tkanina - Avorato d.o.o.
Visits: 1453
Added: 20.5.2009.
Description
Tkanine za radnu i zaštitnu odjeću, tkanine za medicinski program, za kišnu odjeću, damast tkanine za posteljni i ugostiteljski program, podstave, satenske i brokatne tkanine i ostalo iz našeg asortimana.
Location
Location of this site was not found. If you know the address of this site, please contact the administrator.