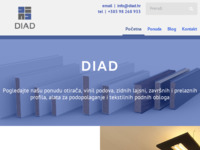 Diad konstrukcije d.o.o.
Visits: 1223
Added: 16.6.2009.
Description
Tvrtka Diad konstrukcije d.o.o. aktivna je na tržištu Hrvatske od 2003. godine. Osnovna dijelatnost tvrtke je veleprodaja podnih obloga, podopolagačkog alata, obrubnih lajsni i prijelaznih aluminijskih profila.
Location
Location of this site was not found. If you know the address of this site, please contact the administrator.