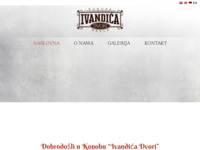 Konoba Ivandića Dvori
Visits: 864
Added: 7.12.2006.
http://www.konoba-ivandicadvori.com
Description
Tavern Ivandića Dvori is situated almost at the entrance of small and beautifull Damatian town - Brela. Enjoy the sunset with sounds of Dalmatian music. We offer rich choice of Dalmatian specialties from fish, meat and sea food and wine of our climate.
Location
Location of this site was not found. If you know the address of this site, please contact the administrator.