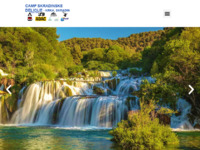 Skradinske delicije
Visits: 826
Added: 3.12.2009.
http://www.skradinske-delicije.hr
Description
Osluhnuli smo tradiciju skradinskog kraja na način da smo plodove kao što su smokve iz škrte zemlje i bajame gorkog kamenjara oplemenili u tradiciji izrade naših delicija. Autohtone slastice su osebujnog okusa i kvalitete,a zahvaljujući i načinu pakiranja u zagrljaju šibenske kape dobile su i svoju prepoznatljivost kao autohtoni suvenir.
Location
Location of this site was not found. If you know the address of this site, please contact the administrator.