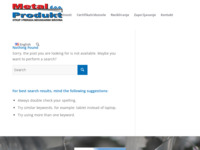 Metal produkt d.o.o.
Visits: 826
Added: 9.2.2010.
Description
Metal produkt d.o.o. is a company registered for the collecting and recycling of metal remains and traffic of secondary raw materials, and for the collection and storage of non-hazardous waste.
Location
Location of this site was not found. If you know the address of this site, please contact the administrator.