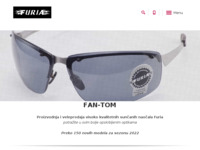 Fan-tom
Visits: 1226
Added: 19.3.2010.
http://www.suncane-naocale.com
Description
Fan-tom is a family business, manufacturing, import and distribution of high quality sunglasses. Steadfast work and commitment, with lots of investment, we have created a line of sunglasses under the name of a prestigious quality Furia.
Location
Location of this site was not found. If you know the address of this site, please contact the administrator.