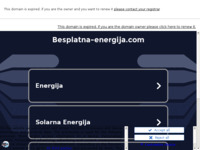 Free Energy - Renewable energy sources
Visits: 903
Added: 22.3.2010.
http://www.besplatna-energija.com
Description
Free Energy is all about on renewable energy. How to apply and use renewable energy sources, all about solar energy, wind energy and wind turbines, the use of biomass and geothermal energy for heating. News related to renewable energy sources.
Location
Location of this site was not found. If you know the address of this site, please contact the administrator.