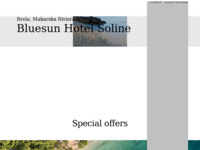 Bluesun Hotel Soline Brela
Visits: 1349
Added: 23.3.2010.
http://www.hotelsolinebrela.com
Description
The unique architecture of Soline Hotel impresses with its airiness and pure form, respecting the environment set by the Biokovo Mountain and the blueness of the Adriatic Sea. Soline Hotel is only ten metres away from the beach and the sea. Glass, stone and plants dominate the Hotel's interior.
Location
Location of this site was not found. If you know the address of this site, please contact the administrator.