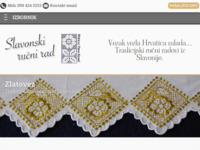 Handmade traditional items from Croatia
Visits: 1148
Added: 27.5.2010.
http://www.slavonski-rucni-rad.com
Description
Handmade traditional items. Production of traditional items for home, church, production of traditional folk clothes from Slavonia, design costumes. Tablecloths, napkins, various handmade traditional techniques from Slavonia.
Location
Location of this site was not found. If you know the address of this site, please contact the administrator.