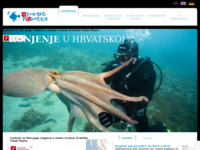 Diving in Croatia
Visits: 522
Added: 14.6.2010.
http://www.ronjenjehrvatska.com
Description
New website that represents diving in Croatia in, until now, unique way. 116 diving sites, displayed on interactive map with satellite imagery, GPS data, and many interesting and usefull informations about Croatia and diving in general.
Location
Location of this site was not found. If you know the address of this site, please contact the administrator.