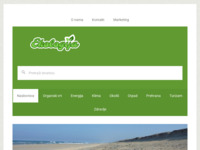 Ekologija, klima, energija, okoliš...
Visits: 1091
Added: 12.7.2010.
Description
Ekologija.com.hr je web portal sa svim mogućim informacijama o ekologiji i zaštiti okoliša. Ekologija, energija, klima, otpad, okoliš i prehrana samo su neke od tema na portalu.
Location
Location of this site was not found. If you know the address of this site, please contact the administrator.