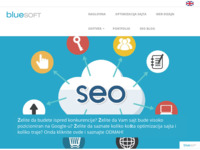 Internet prezentacije, Web design, Softver za nekretnine, Help desk softver, SEO
Visits: 556
Added: 27.9.2010.
http://www.internetprezentacije.net
Description
BlueSOFT se bavi uslugama iz oblasti web designa: izrada internet prezentacija, optimizacija internet prezentacija ili seo, i uslugama iz oblasti programiranja: prodaja softvera za nekretnine, softvera za turisticke agencije i softvera za help desk.
Location
Location of this site was not found. If you know the address of this site, please contact the administrator.