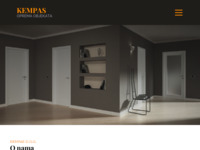 Kempas d.o.o. - opremanje objekata - podovi, vrata, drvene fasade i terase, ship decking...
Visits: 1143
Added: 10.1.2011.
Description
Kempas d.o.o. - podovi, laminati, parketi, vrata...kompletna usluga sa montažom i garancijom kvalitete.
Location
Location of this site was not found. If you know the address of this site, please contact the administrator.