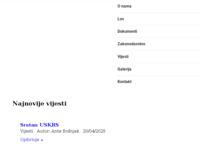 Lovačka udruga Gradina Lovreć
Visits: 1373
Added: 15.4.2011.
http://www.lu-gradina-lovrec.hr/
Description
Lovačka udruga "Gradina" – Lovreć je dobrovoljno udruženje građana lovaca u cilju unapređenja, uzgoja, zaštite, lova i iskorištavanja divljači i njezinih dijelova bez namjere stjecanja dobiti. Udruga djeluje na uzgoju, zaštiti, lovu i korištenju divljači, zaštiti i očuvanju biološke i ekološke ravnoteže prirodnih staništa divljači, njegovanju lovačke etike i običaja, te zaštite prirode i ljudskog okoliša. Udruga je članica Hrvatskog lovačkog saveza.
Location
Location of this site was not found. If you know the address of this site, please contact the administrator.