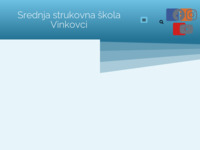 Srednja strukovna škola Vinkovci
Visits: 1045
Added: 16.5.2011.
http://www.ss-strukovna-vk.skole.hr/
Description
U Srednjoj strukovnoj školi Vinkovci, obrazuju se slijedeca zanimanja: automehanicar, bravar, limar, autoelektricar, elektroinstalater, plinoinstalater, vodoinstalater, frizer, konobar, slasticar, kuhar, soboslikar-licilac, autolimar, tekstilni i odjevni tehnicar i druga zanimanja.
Location
Location of this site was not found. If you know the address of this site, please contact the administrator.