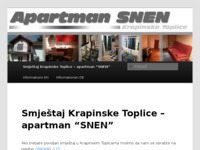 Apartments Snen - Krapinske Toplice (Spa)
Visits: 771
Added: 19.8.2011.
http://krapinske-toplice-apartman-snen.com
Description
Fully equipped and modern apartment in the center of Krapinske Toplice (Spa), 150 m from thehospitals, spas and swimming pools. The facility is located in a quiet area of Krapinske Toplice (Spa) near the church.
Location
Location of this site was not found. If you know the address of this site, please contact the administrator.