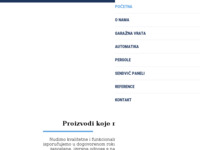 Izoforma-Paneli d.o.o.
Visits: 746
Added: 15.9.2011.
Description
Izoforma-Paneli d.o.o. is established in 1996. Our product range includes: garage doors and other automatic doors, building sandwich panels, polycarbonate sheets, awnings of all types and home automation products. We have offices and warehouses in Zagreb, Rijeka and Split.
Location
Location of this site was not found. If you know the address of this site, please contact the administrator.