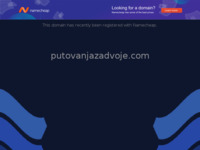 Travelling for couples
Visits: 2923
Added: 28.9.2011.
http://Www.putovanjazadvoje.com
Description
Magazin Putovanja za dvoje vodeći je turistički magazin u regiji koji suvremenim putnicima pruža zanimljive i korisne informacije o domaćim i svjetskim destinacijama. Kroz franšizna izdanja dostupan je u više od 15 zemalja Europe. Tekstovi sa stvarnih putovanja obogaćeni su vrhunskim autorskim fotografijama hrvatskih i internacionalnih putnika.
Location
Location of this site was not found. If you know the address of this site, please contact the administrator.