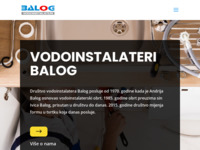 Vodoinstalateri Balog
Visits: 475
Added: 20.12.2011.
http://vodoinstalateri-balog.hr
Description
Tvrtka vodoinstalateri Balog sa vlastitom suvremenom opremom te najmodernijim tehnološkim metodama kvalificirana je za radove izvođenja kompletnih hidroinstalacija, održavanja svih sanitarnih uređaja, instalaciju vodovoda i kanalizacije s posebnom skrbi za zaštitu okoliša i voda.
Location
Location of this site was not found. If you know the address of this site, please contact the administrator.