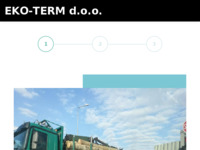 Eko-term d.o.o. Prodaja pelata, ogrjevnog drveta i peći za pelet i drvo.
Visits: 1025
Added: 1.1.2012.
Description
Eko-term d.o.o. je poduzeće iz Županje specijalizirano za prodaju peleta i ogrjevnog drveta, te peći za njihovo korištenje.
Location
Location of this site was not found. If you know the address of this site, please contact the administrator.