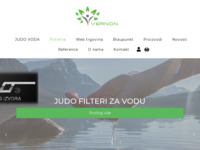 Vernon trgovina d.o.o.
Visits: 1143
Added: 16.1.2012.
Description
Ekološka sredstva za čišćenje - EAZY clean proizvodi su ekološki prihvatljivi koncentrati za čišćenje koji se razrijeđuju sa vodom. Sadrže prirodne tenzide koji imaju izuzetnu snagu čišćenja, razgradnje ulja, masti i ostalih nečistoća.
Location
Location of this site was not found. If you know the address of this site, please contact the administrator.