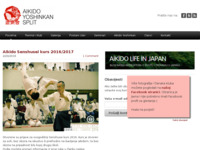 Aikido Yoshinkan Split
Visits: 851
Added: 27.2.2012.
http://www.aikido-yoshinkan.hr
Description
Aikido Yoshinkan Split teaches Yoshinkan Aikido for all age groups. Mentor is Hiromichi Nagano, 7th dan, student of Gozo Shioda and Kyoichi Inoue. Other dojo activities: Exercises for elderly people.
Location
Location of this site was not found. If you know the address of this site, please contact the administrator.