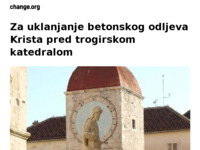 Peticija za uklanjanje betonskog odljeva Krista pred trogirskom katedralom
Visits: 2711
Added: 18.11.2007.
http://www.change.org/petitions/graani-hrvatske-za-uklanjanje-betonskog-odljeva-krista-pred-trogirskom-katedralom
Description
Potpisivanjem ove peticije izražavamo protest protiv skulpture Krista-Spasitelja postavljenog 11. studenoga 2011. godine na Cimatoriju, u prostoru pred katedralom u Trogiru. Skulptura je postavljena bez traženja dozvole općinskih vlasti. O tome nije bila prethodno konzultirana ni stručna javnost.
Location
Location of this site was not found. If you know the address of this site, please contact the administrator.