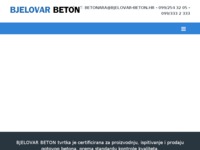 Matic promet - Iskopi Matic
Visits: 1731
Added: 22.5.2012.
http://www.iskopimatic.com.hr/
Description
Dugogodišnjim upornim i prije svega - kvalitetnim radom, potaknuti zadovoljstvom kupaca, klijenata i poslovnih partnera, danas, nakon 12 godina, dosegli smo razinu od 10 zaposlenih. Primarni cilj nam je i nadalje kontinuirano povećavati kvalitetu proizvoda i pruženih usluga, te razvijati se u skladu sa mogućnostima i zahtjevima suvremenog tržišta.
Location
Location of this site was not found. If you know the address of this site, please contact the administrator.