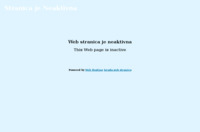 ABC Strani jezici d.o.o.
Visits: 994
Added: 12.6.2012.
http://www.abc-strani-jezici.hr
Description
Prevoditeljske usluge, ABC Strani jezici nude kvalitetnu uslugu pismenog i usmenog prevođenja na većinu i s većine svjetskih jezika. Prijevode vrše iskusni prevodioci, diplomanti odgovarajućih jezika…
Location
Location of this site was not found. If you know the address of this site, please contact the administrator.