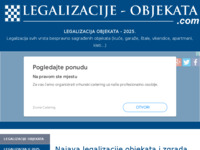 Legalisation of buildings
Visits: 1696
Added: 20.7.2012.
http://legalizacije-objekata.com
Description
Brzo, efikasno i kvalitetno obavljamo legalizacije svih vrsta objekata uz vrlo pristupačne cijene na području cijele Republike Hrvatske. Izrađujemo projekt objekta, te uz priloženi goedetski snimak izrađujemo snimak izvedenog stanja - svu potrebnu dokumentaciju za legalizaciju bespravno izgrađenih, ili dograđenih objekata. Krajnji rok za legalizaciju bespravno sagrađenih objekata je 30.06.2013. tj. datum ulaska Hrvatske u EU. Iskoristite priliku prije tog vremena!
Location
Location of this site was not found. If you know the address of this site, please contact the administrator.