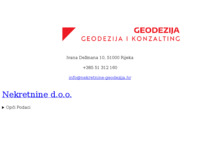 Nekretnine d.o.o.
Visits: 794
Added: 14.9.2012.
http://www.nekretnine-geodezija.hr/
Description
Tvrtka Nekretnine d.o.o., osnovana je 1990 godine., te joj osnovnu i jedinu djelatnost predstavljaju geodetski poslovi. 2007 g. Dopunili smo naziv tvrtke u Nekretnine d.o.o. za geodetske poslove, sa sjedištem u Rijeci, Ulica Erazma Barčića 9.
Location
Location of this site was not found. If you know the address of this site, please contact the administrator.