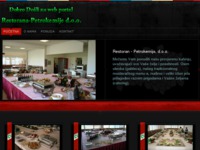 Restoran - Petrokemija, d.o.o., Kutina
Visits: 543
Added: 3.10.2012.
http://www.restoran-petrokemija.hr
Description
Više desetljeća tradicije u pripremanju hrane jamstvo su naše stalne i priznate kvalitete. Možemo Vam ponuditi našu provjerenu kuhinju uvažavajući sve Vaše želje i posebnosti. Osim gableca i našeg tradicionalnog moslavačkog menu-a nudimo i velik izbor jela prilagođen raznim prigodama i Vašim željama (catering).
Location
Location of this site was not found. If you know the address of this site, please contact the administrator.