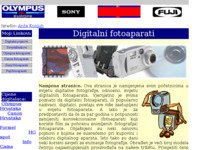 Digital cameras
Visits: 4866
Added: 17.11.2003.
http://free-du.htnet.hr/digital/
Description
The page which describes the basic terms about digital cameras and describes famous models of digital cameras. There are 40 specifications about digital cameras. The page is for everybody who want to learn more about digital photography.
Location
Location of this site was not found. If you know the address of this site, please contact the administrator.